It's a dream of mine to complete hiking the Aberdare Ranges.
After Summiting Mount Satima late last year, I came back to summit Table Mountain. Unlike Satima, Table Mountain has fewer bogs and the trail is less rocky. We were lucky enough to hike while the weather is dry as the rain would have made the terrain really difficult.
Quick Facts About Table Mountain, Aberdare Ranges
Difficulty: Moderate to hard.
Trail Length: 13 KM
Weather: Sunny and dry around January. 
Hiking Duration: Around 7 to 8 hours
Elevation: 3,971M ASL
Where is Table Mountain in Kenya?
Table mountain is located on the Northern stretch of the Aberdare Ranges. From the summit, we could see Mount Satima to the North and Lake Olbolosat just around. 
How Long Does It Take to Walk Up Table Mountain?
4.5 hours.
Anything less than that is being overly ambitious. If you factor in the steepness, the altitude gain, the breaks to adjust to the altitude and take pictures, it takes 4 hours to hike up Table Mountain. After the Summit, it took less than 2 hours to descend. The trail is super easy for descent and quick as you are going against the altitude. Because the trail was dry, descending was easy but took longer as the trail is long.
I'd highly recommend keeping your toenails short as the descent takes a toll on them. 
Getting To Table Mountain
To get to Table Mountain, we used Waiyaki Way and branched off at the Njabini Flyover.
From the Flyover to Kinangop gate was quite a distance. Here we made a quick KFS (Kenya Forest Service) and washroom stop before proceeding with the rest of the journey. From the Kinangop gate, the road passes through centres such as Donyo Njeru and Kwa Wanjohi before getting to the start of the trail.
Hiking Table Mountain, Aberdare Ranges 
As with other mountains of the Aberdares, the terrain is not as difficult as the altitude gain and the effect it has on your breathing.
Hiking Table Mountain was advantageous as the trail starts where the bus drops you, as opposed to Satima where you have to walk a distance before beginning the hike. The trail starts with a short descent, past a river, then the ascent begins. From the river onwards, the trail is steep and passes through forests and grasslands. There was a lot of flowers and pollen. Remember to carry medicine if you are affected by pollen grains. After ascending for around  3 to 4 hours, you'll get to the heath and moorland vegetation.
Though not as beautiful as the heath and moorland in Rurimeria, the vegetation is an indication that you've covered a fairly good part of the trail and the summit is near. After the heath and moorland, the trail is a combination of ascents and descents until you get to the summit.
The last leg is an ascent to the top of the mountain which resembles a table.
Table Mountain Views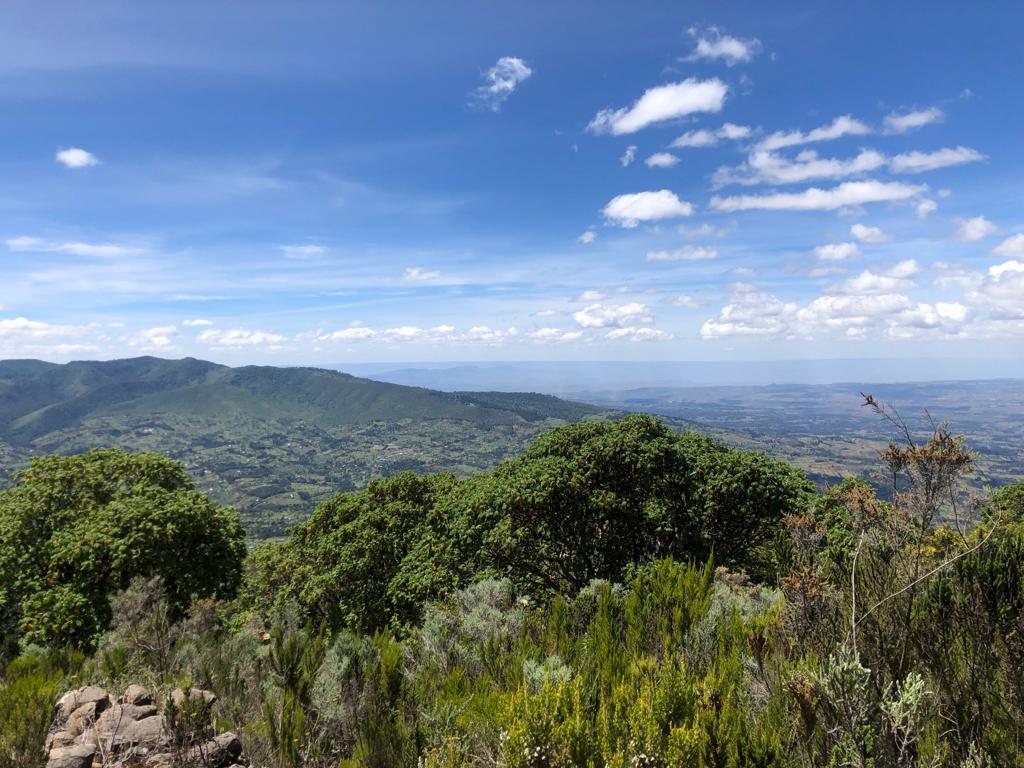 Photos of the Author
Photos of the author at the Summit, Table Mountain, Aberdare Ranges
You May Also Like: 
Rurimeria Hills Hike, Aberdare Ranges: What You Need To Know
Microspikes for Hiking: 10 Things You Should Know