Hiking Elephant Hill turned out to be what my body and mind needed. I was able to have the best kind of sleep I have had in a long time and eat actual food. Sometimes I forget to eat or eat for sustenance.
For the Elephant Hill hike, I decided to try Let's Drift. You can check out their monthly hiking calendar should you want to go on a hike or two. 
Quick Facts about Elephant Hill, Aberdare Ranges
Difficulty: Moderate to hard.
Trail Length: 9 KM
Weather: Sunny and dry around January. 
Hiking Duration: Around 7 to 10 hours
Elevation: 3,658M ASL
Elephant Hill Entrance Fee: 500 Kshs for Kenyan citizens (might change depending on the season).
From the Njabini Station Gate to The Starting Point
Think of the Elephant Hill hike to be a series of points; from the Njabini Station Gate to the Starting Point. The Starting Point stands at 2802M ASL. This first stretch is around 3KM through man-made forest grazing cattle and sheep and leads to the starting point of the Elephant Hill hike.
You'll feel the change in altitude and the air thinning as your breathing changes. 
From the Starting Point through the Bamboo Gate to the Point of Despair
From the starting point, hikers go through a never-ending and dark lit Bamboo forest. The Bamboo forest starts at the Bamboo gate, which stands at 2,933M ASL. The hike through the Bamboo forest takes an hour and is about 1.2KM long.
However, this stretch might feel like five hours as you gain altitude. The terrain is friendly but look out for low hanging bamboo stalks, muddy puddles, safari ants and bamboo shoots. The bamboo forest makes way for mountainous vegetation and lush moorland until you get to the point of despair, which stands at 3,255M ASL.
From the Point of Despair through the Tail to the Summit
If you've made it to the Point of Despair, you're almost at the summit. The terrain here is descent and an ascent through rocky terrain that looks like a stairway. To the naked eye, the summit looks quite steep from afar and it can be easy to give up, However, it's not as steep as it seems.
As with all Aberdare Ranges hikes, the real test is breathing through the altitude gain. The rocky terrain is quite steep but doable. Elephant Hill summit stands at 12,000 FT ASL (3,513M ASL) and offers a great view of the scenery and the surrounding mountains.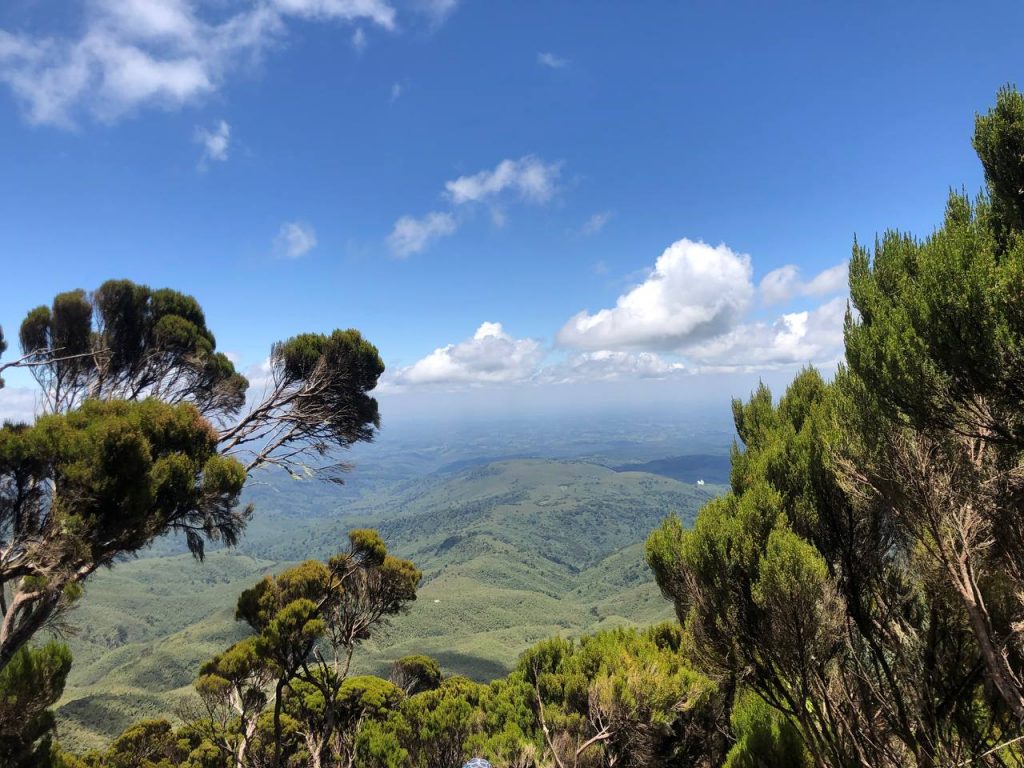 The Descent
The descent was easier and quicker. Once you get past the rocky terrain and into the Bamboo forest, you can pretty much run all the way down. Elephant hill is a series of lunges so expect to feel some pressure around your knees.
In addition to this, remember to keep your toenails short and wear hiking boots a size bigger to make it easier for you to descend steep terrains.
Watch on YouTube