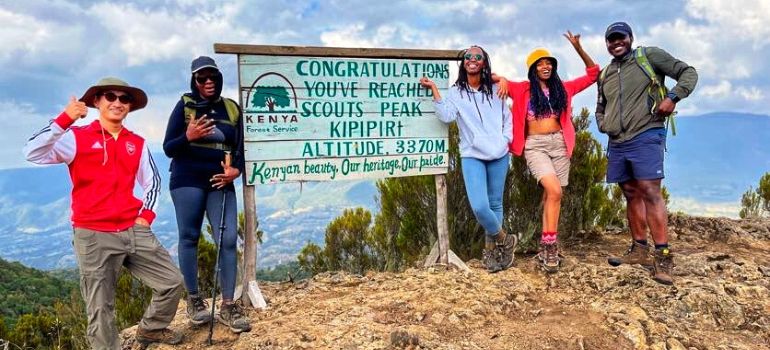 Aberdare Ranges is a popular hiking destination in Kenya, known for its picturesque scenery and challenging trails. Among the many peaks in the ranges, Mount Kipipiri stands out as one of the most challenging and rewarding hikes. With its rugged terrain, steep ascents, and breathtaking views, this mountain is a must-visit for avid hikers and nature enthusiasts alike.
Quick Facts About Hiking Mt Kipipiri, Aberdare Ranges
Difficulty: Hard.
Beginner friendly: No
Trail length: 17 KM.
Weather: Sunny when i hiked but always carry a raincoat while hiking the Aberdares.
Hiking Duration: 6 – 7 hours.
Elevation : 3,370M ASL.
To get to Mount Kipipiri, you can take a bus or drive from Nairobi, which is about 2 hours away. Once you arrive, you will need to obtain a permit from the Kenya Wildlife Service (KWS) office in Njabini town. The permit costs Ksh 1,200 (approx. $12) for Kenyan residents and Ksh 2,200 (approx. $22) for non-residents. For this hike, I used Mona Trails by Kare.
Hiking Mt Kipipiri
If you've hiked Aberdare Ranges before, then this should be an easy hike. The hike starts at one end and ends at a different location. This means you don't summit and use the same route back to the van/bus. For seasoned hikers, it will feel like a very long walk.
The altitude is bearable and doesn't compare to Elephant Hill or Satima. 
The hike starts from the KWS office, down a dirt road before it ventures into the forest.  The forest shields you from most of the sun and then after 2 hours you're out in the open before traversing another forest.
The guide advised us that the sunny season is not the best time to hike Mt Kipipiri as the heat slows you down and he was right.  It was very sunny  so make sure to carry sunscreen if you're going to hike in the dry season.
As you approach the peak, it gets colder.
The last leg of the hike is a descent to a valley and then an ascent through rocky ground from where you can see the summit.
Here are pictures from the Mt Kipipiri hike: