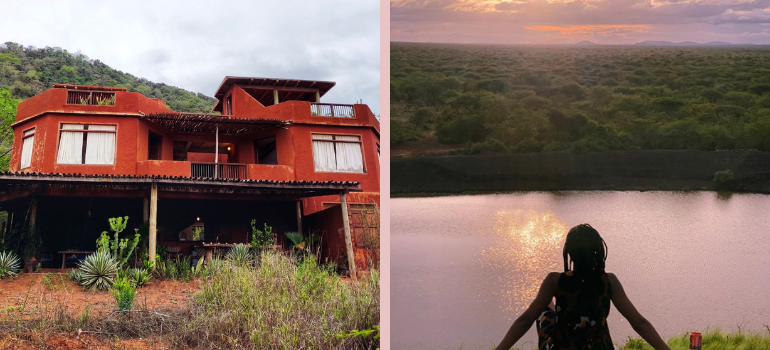 Traveling while employed is very interesting in terms of how many leave days one can squeeze in here and there. Thus when a holiday grants us a long weekend, it's best to use it for some well needed rest. For Labour day weekend, we set out for a hiking trip and camping in Tsavo East.
Hiking and Camping in Tsavo East
Day 1: Train from Nairobi To Voi
We left Nairobi on Friday for Voi with the afternoon train at 3:00 pm. We arrived at Voi at 6:50 pm, and Chris, the owner and host of Tsavo House picked us up. We did a bit of shopping for breakfast and household items and proceeded to Tsavo House which is 5 minutes away from Voi Railway Station (SGR)
Tsavo House is a cozy earthen home that's been built with alternative architecture, which blends in with the environment and the ecosystem. It's been built with natural materials sourced within Voi making the architecture sustainable. 
Tsavo House is:
Located only 5 minutes from the Voi railway station (SGR) in a beautiful rural setting, this property borders the Voi sand river and has stunning views of the Taita hills to the west.

A very convenient stop-over 5 minutes off the Nairobi/Mombasa highway and set in 4 acres of secure grounds with plenty of shady trees and gardens.

10 minute drive from the town center of Voi with access to banks, supermarkets and a fresh vegetable market.

15 minutes to the world famous Tsavo East National Park.
Within the premises, Tsavo House has a camp site called Mango Tree campsite which has room for at least 20 tents. Outside the premises at Kasigau, there's Kasigau Base Camp.
Find Tsavo House on AirBnB here. On arrival we were welcomed by two other guests who had already been staying here and we quickly bonded and became friends.  We had dinner together and talked well into the night.
Day 2: Drive To Wesu past Wudanyi and Wesu Hill Hike
The next day, Saturday we drove to Wudanyi for a hike. Voi is beautiful and the area past Wudanyi gives a Bali vibe without ever leaving Kenya! It's also green and beautiful in comparison to the arid Voi area. We took a couple of pictures at a town center in front of a huge rock. Collins is a great photographer and did quite a good job at this. After lunch and snacks we started the hike on Wesu Hills.
Wesu Hill is beginner friendly and has no park fees. For those in Voi and looking to start hiking, I'd recommend they try Wesu Hill. It takes about 40 minutes to 1 hour but it took us longer as we stopped to enjoy the scenery and take pictures. We also met villagers and some tourists from Germany on the trail so Wesu Hill is popular for hikes in this area.
At the summit on Wesu Hills, we had a photoshoot, enjoyed the scenery before starting our hike back. While summiting, we'd followed the main road but on the descent back we followed the Germans through a forest trail to a Shamba system and finally to the main road where Chris picked us all and dropped the Germans at Wudanyi.
Drive to Kasigau Base Camp
After dropping off the Germans, we drove to Kasigau Base Camp through Taita Sisal plantation and Taita beef ranch. The sisal plantation employs 3,500 people a month as sisal is very labor intensive. Taita beef ranch is community owned and stretches all the way to Tanzania.
There was a heavy poop smell as we drove through the Sisal plantation as drying sisal smells like poop.We'd sleep in the Kasigau Base Camp cottages before hiking Mt Kasigau the next day. Kasigau Base Camp is also owned by Chris and is a great option for camping in Tsavo East. It offers cottages and places to set up tents. To camp here and use the cottage, the charge is 2,000 per person per night. The cottages are also earthen cottages and cozy, we slept in the cottage below which is perfect for camping in Tsavo east for that wilderness experience .
The Base Camp has 3 cottages, each cottage has 4 to 6 beds which brings it to a total of 12 to 16 beds,  and a Kitchen/dining area.There's also a shower/washroom cottage. 
To camp here you can:
Choose to pitch tents and pay 500 for the camp area. Bring your own kit. Chris doesn't offer camping gear.

Pay KES 2,000 per night to sleep in the earthen cottages.
Day 3: Hiking Mt Kasigau
Mt Kasigau stands at around 1400M asl and took us around 6 hours to ascend and descend. The entire trail is around 14 Km, to and fro. We started the hike after breakfast through Kasigau village to the starting point of the trail. The trail follows an arid vegetation forest, an ascent from where all the network disappears and a rainforest.
It takes quite a while to get to the rainforest but when you do it signals you're almost at the peak.
Just before we got to the rainforests, we saw graves from the World War, possibly German soldiers and the route which Germans used to travel from Tanganyika to Kenya. We also saw the canals they'd hide in at the time. 
The trail is also packed with insects, spiders and caterpillars which are different from what we'd normally see in our Aberdares Hikes. Past the rain forest are trails that lead to different viewpoints. 
We went off trail to the viewpoint which was a bit steep but doable, before continuing to the summit.  Just before the summit is a campsite area which had old fire remains. This place seemed too cold to camp and Mt Kenya gear would be needed here as at some point the clouds were in our face and the winds were so strong!
After around 20 minutes, we started descending. Descending was quicker than ascending but descending is always trickier as you feel like you're fighting with gravity. As we approached the village, there's a lady who sells woven baskets so make sure to buy from her.
We got to Kasigau Base camp at around 4:00 pm for refreshments. After packing for Tsavo House, Voi, we drove to a rock outcrop for a sundowner overlooking Mt Kilimanjaro and an Elephant watering hole. In the rainy season, elephants stay away from this water source but show up in the drought season. The clouds also covered Mt Kilimanjaro so we were not able to see that but we enjoyed the sun and cider!
We left the rock outcrop at around 6:45 pm for Voi and after dinner in Voi headed to Tsavo House to prepare for our 9:55 am train.
I highly recommend Tsavo House for anyone who's looking for a quiet place to work from with WiFi, a place to stay as they tour Tsavo National Park or a camping spot!
Here are other articles you may find useful:
Microspikes for Hiking: How to Choose the Right Micro Spikes for Your Next Hike
A Day Hike in The Aberdare Ranges: Hiking Mt Kipipiri